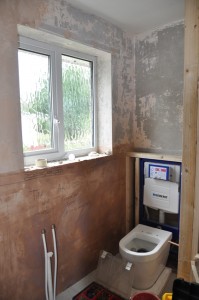 Clients: Graham & Debbie Atkinson
Location: Carus Lodge, Arkholme.
Duration: June – Sept 2012
Project: House Renovation: Complete Plumbing and Heating Upgrade, Main Bathroom Refurbishment, Creation and Installation of new En-suite Bathroom, Installation of Wood Burning Stove.
Heating: Remove old boiler, radiators, pipe work and header tanks from loft space. Install new boiler, flue, weather compensator, radiator pipework, manifolds and new radiatiors. Run pipes to loft space in case of future renovation.
Main Bathroom: Plasterboard and plaster outside wall & side of newly formed cupboard. Plumb washing machine into cupboard. Remove old sanitary ware, 1st & 2nd fix soil (new stack) & waste pipes, 1st & 2nd fix sanitary ware. Hard backer & tile bathroom floor, tile bath area, half tile toilet area.
En-suite: Bench out external manhole, lift section of concrete path, dig external trench, lift floorboards in bedroom 1 & excavate internal hole, lift floorboards in bedroom 3 and excavate external hole. Install underground soil pipe from bedroom 1 to manhole. Make good holes and concrete above drain outside. Knock Out nib in bedroom wall, form en-suite bathroom. Re-enforce joists under shower tray. 1st & 2nd fix bathroom. Tile the floor, shower area, toilet wall, above the toilet framework and above the sink.
Kitchen: Run pipe work to new sink location, plumb sink and dishwasher. Drill hole in kitchen worktop & install kitchen tap. Install outside tap.
Lounge: Install flue, Install Wood Burner & Connect to Flue. Install Spinner cowl to flue.
Testimonial:
I am writing to say how pleased we are with the work done by your company on our property. We are pleased with the very professional finish both the bathroom and en-suite look lovely and function well and the heating system installed is super. However, we were also very impressed with the way the work was carried out with all the different staff being very friendly helpful and patient – with Mick deserving a special mention!

In addition to which your staff always came when they said they would and always did their utmost to keep our rather lengthy job moving. From Mick's first visit to finishing off I had confidence in the company and wasn't disappointed.

Regards
Debbie
---
In Progress Photos