We have worked in association with Ben Cunliffe Architects on a number of exciting projects, each with a unique and challenging environment. So far we have installed a heat pump in a Lake for a Bespoke Country House Hotel and worked together for private clients installing renewable heating systems.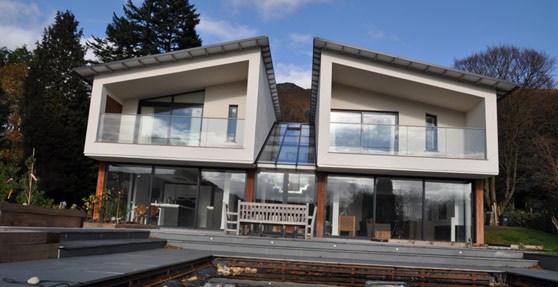 This latest project was based in Grasmere in the heart of the Lake District National Park. Nestled in the heart of the cumbrian hills, the location and remit of this project presented a unique and challenging environment. Our mission was to install a monovalent (single) renewable heating system, one system that would provide all the heating and hot water requirements for this modern and contemporary building.
Ground source heat pump.
For this project, there is not a boiler or a radiator in sight, not even solar panels. This heating system is quite literally reliant on the earths natural resources, a bore hole ground source heat pump. This is not the cheapest renewable heating technology, however, as this would be the only method of providing heating and hot water, the technology had to be both reliable and sustainable. A bore hole groundsource heating system can provide this.
This has been an exciting and lengthy project. In addtion to the ground source heat pump and associated pipework for the ground loops, our engineers installed a plant room, and plumbed five modern and bespoke bathrooms, consisiting of four ensuite bathrooms and a main bathroom. This project required a high level of skill and a dependence on reliable renewable technology, this is only achieved when using the right people with experience  in the renewable heating industry.
Testimonial
We first approached Wheildon's in 2009, from a recommendation. We tendered them for our Lake House project, which was going to be anything but straightforward. The can-do attitude of the company impressed us from the outset. On one project alone, Wheildon's presided over a lake-source heat installation; solar heating for a swimming pool; and an LPG–based system for hot water and secondary back-ups; along with two plant room installations.

Having won our confidence, and submitting a great value tender for our next project; Wheildon's won the Mechanical tender for a high-tech new-build house in 2011. Ground-source heating and hot water from boreholes meant this property required no reliance on a traditional back-up. Wheildon's installed the ground-source loops, the plant room, underfloor heating and five bathrooms. In 2012 they carried out a similar, but smaller, installation in a domestic renovation project.We look forward to a continued working relationship.

Ben Cunliffe, Ben Cunliffe Architects, for further information have a look on the following website. www.bencunliffe.co.uk