This year (2012) we have undertaken another renewables project for Ben Cunliffe Architects. This time the project was a domestic renovation in Underbarrow, the Lake District. As Mcs approved installers, this project was yet another chance to demonstrate our skills in renewable heating solutions. This installation involved a bore-hole groundsource heat pump,  ground loops, plant room, underfloor heating and four bathroom installations.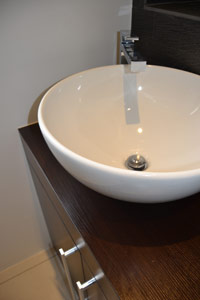 During this project the existing heating system was a traditional boiler with radiators, designed for a single story bungalow. Designed by Ben Cunliffe Architects this single story dwelling was to be completely renovated, in its place, the creation of modern and contemporary House split over two floors. Quite simply, our role was to advise on the installation of a sustainable heating technology, suitable for this modern and contemporary new home.
The new heating system consisted of a bore hole ground source heat pump, ground loops, plant room and underfloor heating throughout. As part of the renovation Ben Cunliffe had designed four modern and contemporary bathrooms that were installed by the Wheildon team. This has been yet another challenging and enjoyable project from Ben Cunliffe Architects. For more information on ground source heating please refer to the renewables section on the website.
Testimonial
 We first approached Wheildon's in 2009, from a recommendation. We tendered them for our Lake House project, which was going to be anything but straightforward. The can-do attitude of the company impressed us from the outset. On one project alone, Wheildon's presided over a lake-source heat installation; solar heating for a swimming pool; and an LPG–based system for hot water and secondary back-ups; along with two plant room installations.

Having won our confidence, and submitting a great value tender for our next project; Wheildon's won the Mechanical tender for a high-tech new-build house in 2011. Ground-source heating and hot water from boreholes meant this property required no reliance on a traditional back-up. Wheildon's installed the ground-source loops, the plant room, underfloor heating and five bathrooms. In 2012 they carried out a similar, but smaller, installation in a domestic renovation project. We look forward to a continued working relationship.

Ben Cunliffe, Ben Cunliffe Architects.
For further information on Ben Cunliffe Architects please follow the link to their website: www.bencunliffe.co.uk