15,000 people took part in the London Walk The Walk, 6 of them were our very own Alison Drew and 5 others in her team, the 'Tingley Teasers'.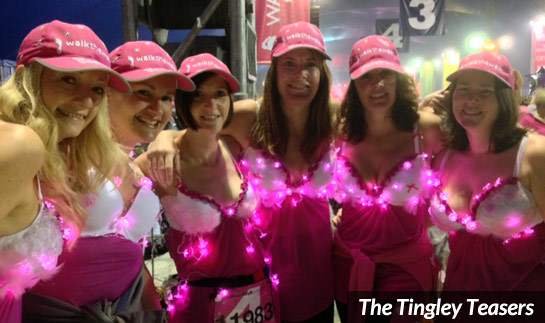 At 11:45pm, the 'Tingley Teasers' started the 26.2 mile walk from Battersea Power Station. The girls had managed to raise over £2,500 for breast cancer, with that in their minds they set off confidently. The night before the walk, it was announced that overall the Moonwalk had raised over £3 million, which is massively up from the previous years amount of £2 million.
By 4am on the Sunday, they were half way through their London Moonwalk. The temperature had dropped, not helped by the waiting at traffic lights and gated systems controlling the walkers due to the sheer amount of ladies that entered this years walk.
The group finished their walk at 8am. Alison relives the end of the walk;
"Our team were amazing we all stuck together, Helen had shin splints at 23 miles and we helped to carry her along to the finish. Claire fell sick at 21miles and looked green but, after a short breather, pulled through to the end. A very emotional and rewarding experience. We now have a few blisters to prove it."
There was a minutes silence at the start of the race to remember three ladies who had entered the race but had unfortunately passed away before the event. It really brings home the reason why Alison, Clare, Nicola, Ali, Natalie, Helen and the thousands of other woman who took part in the walk. The 'Tingley Teasers' are still collecting donations, so if you can spare any money, then please visit the team's page here: The Tingley Teasers Fundraising Page